Clergy & Staff
Clergy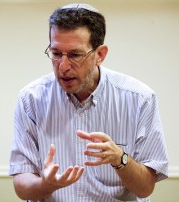 Rabbi Laurence Sebert
212.677.8090 ext. 23 / rabbi@tandv.org
Since becoming T&V's head Rabbi in 1991, Rabbi Sebert has engaged and inspired his congregants to climb the ladder of Jewish commitment. He inspires through his warm personality and non-judgmental style as well as the power of his intellect and his creative approach to the study and practice of modern Conservative Judaism.
A rock and roll drummer, Rabbi Sebert is beloved by the community as someone who never takes himself too seriously, but takes people very seriously. He has the rare capacity to make each person feel special and validated, and to help and inspire them to find their own way to a more committed Jewish life, sometimes in small, yet important steps.
Cantor Shayna Postman
212.677.8090 ext. 25 / cantor@tandv.org
Cantor Shayna Postman has been Hazzan and choir director since 1998. A featured singer at Alice Tully Hall, Merkin Hall, Mann Auditorium in Israel, Carnegie Hall, and at the White House, she uses her beautiful voice to transport our members and to inspire them to sing out together in prayer in ever more active and participatory services. She directs T&V's synagogue choir, featured at our annual concert, High Holidays and select Shabbat and Festival services.
Her passion for Jewish engagement through Jewish music extends to our Hebrew School students and even the youngest members of our synagogue community, as she teaches them the joyful melodies of our tradition while encouraging them to embrace their Jewish identities and explore their musical talents.
Check out the 'Cantor's Corner', for her reflections and ritual resources that you may find helpful.
Thu, May 19 2022
18 Iyyar 5782
Tonight's Sefirah Count Is 34
היום ארבעה ושלשים יום שהם ארבעה שבועות וששה ימים לעמר
Today's Calendar
---
Upcoming Programs & Events
---
This week's Torah portion is

Parshat Behar
Candle Lighting
Havdalah
Motzei Shabbat, May 21, 9:02pm
Lag B'Omer
View Calendar
Zmanim
Alot Hashachar
3:55am
Earliest Tallit
4:37am
Netz (Sunrise)
5:35am
Latest Shema
9:14am
Zman Tefillah
10:27am
Chatzot (Midday)
12:53pm
Mincha Gedola
1:29pm
Mincha Ketana
5:08pm
Plag HaMincha
6:39pm
Shkiah (Sunset)
8:10pm
Tzeit Hakochavim
8:57pm
More >>
Thu, May 19 2022 18 Iyyar 5782