Clergy & Staff
Clergy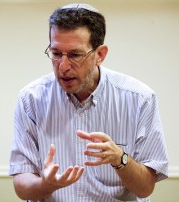 Rabbi Laurence Sebert
212.677.8090 ext. 23 / rabbi@tandv.org
Since becoming T&V's head Rabbi in 1991, Rabbi Sebert has engaged and inspired his congregants to climb the ladder of Jewish commitment. He inspires through his warm personality and non-judgmental style as well as the power of his intellect and his creative approach to the study and practice of modern Conservative Judaism.
A rock and roll drummer, Rabbi Sebert is beloved by the community as someone who never takes himself too seriously, but takes people very seriously. He has the rare capacity to make each person feel special and validated, and to help and inspire them to find their own way to a more committed Jewish life, sometimes in small, yet important steps.
Cantor Shayna Postman
212.677.8090 ext. 25 / cantor@tandv.org
Cantor Shayna Postman has been Hazzan and choir director since 1998. A featured singer at Alice Tully Hall, Merkin Hall, Mann Auditorium in Israel, Carnegie Hall, and at the White House, she uses her beautiful voice to transport our members and to inspire them to sing out together in prayer in ever more active and participatory services. She directs T&V's synagogue choir, featured at our annual concert, High Holidays and select Shabbat and Festival services.
Her passion for Jewish engagement through Jewish music extends to our Hebrew School students and even the youngest members of our synagogue community, as she teaches them the joyful melodies of our tradition while encouraging them to embrace their Jewish identities and explore their musical talents.
Check out the 'Cantor's Corner', for her reflections and ritual resources that you may find helpful.
Staff
Rabbi Nadia Gold
Director of Youth Education & Family Life
212.677.8090 ext. 24 / rabbigold@tandv.org
Rabbi Nadia Gold grew up in New York City and her love of Jewish education began early on. Nadia was active in her home synagogue, Congregation Rodeph Sholom, for many years as a teen.
After graduating from Wellesley college with degrees in Jewish Studies and Art History, Nadia attended Hebrew Union College where she received her Rabbinic degree.
After serving as the assistant Rabbi at Congregation Emanu-El in NYC for seven years, she went back to HUC to receive her degree in Jewish Education. Before coming to T&V, she served as the Director of Family Engagement at West End Synagogue Synagogue, here in NYC for four years.
Rabbi Joel Shaiman
Center for Conversion to Judaism - Program Coordinator & Instructor
212.677.8090 ext. 26 / rabbishaiman@tandv.org
Rabbi Joel Shaiman is the rabbi at the Roosevelt Island Jewish Congregation. He has taught conversion and introduction to Judaism classes for the last five years at several programs in New York City. He received ordination from the Jewish Theological Seminary of America in 2013.
Prior to attending JTS, Joel worked in the investment management and consulting industries for many years. He and his wife Harriet live on the Upper West Side, and are the proud parents of three children in their twenties.
Leslie Kallus
Executive Director
212.677.8090 ext. 20 / execdirector@tandv.org
Carol Slotkin
Office Administrator
212.677.8090 ext. 0 / office@tandv.org

Administrative Assistant
212.677.8090 ext. 26 / admin@tandv.org
Tue, June 2 2020
10 Sivan 5780
Today's Calendar
---
Tomorrow's Calendar
---
Friday Night
Shabbat Day
Morning Services

: 9:30a
Maariv & Havdalah

: 9:10p
Havdalah

: 9:15p
Upcoming Programs & Events
---
View Calendar
Tue, June 2 2020 10 Sivan 5780